GALLERY
CUT-OUTS
Exhibition 195 Mare Street
CONSTANT EFFORT
Artist in residence B Side Festival
COLOUR WHEEL
35 discarded items
ALL ALONG
Greensand Country residency
WHAT DO WE HOLD DEAR?
Public art project, Bedfordshire
MAKE CLUB
Art club
I CAN TELL NICELY
Dialect and Heritage Project
ILFORD DIRECTORY
[Space] Studios
LET'S STICK TOGETHER
Arts Council funded project
EXHIBITION:
Curated II Womxn
MONDAYS
Mantle Arts, Leicestershire
SORTING
London Creative Network
THROUGH KALEIDOSCOPE EYES
Tideway, London
SHOP
Artworks
CLUTTER BANK
Planet B, METAL
CAROUSEL NO.1
80 Canaries
ARTIST BOOKS
The Bloomsbury Festival
CLIMATE-GRAMS
British Library
X-RAY DEPARTMENT
End Of The Road Festival
DOT-DASH
Hackney Council, London
MIRROR BOX

LIGHT CONSTRUCTORS
Emergency Exit Arts
BUREAU OF LOST AND FOUND
UP Projects / Totally Thames Festival
MEMORIES OF LONDON
Museum of London Docklands
WHITTON SMALL PRESS
Richmond Literature Festival
KALEIDOSCOPE

WATER FOLK
Up Projects
POP UP PICTURE PALACE
Wood Street Inside Out
GATEWAY
British Museum
ABOUT
Emily Tracy makes site-specific socially engaged projects in public spaces, which encourage the exploration of place. Projects start with research, and seek participation using the asking question, or collecting of story, histories, data or objects. Running through the projects are re-occurring themes around environment, natural history, and human impulse to collect and sort. Working collaboratively, partners have included b-Side Festival, Space, Metal (Peterborough) and University of Leeds English Department, and creative collaborators have included a sound producer, animator, Entomologist, writer and many naturalists.
Each new project demands an immersive process of engaging in the fine detail to find the defining character, or nub of the question, and produce outcomes which are thought provoking and yet accessible to all.
My practice is multidisciplinary. Projects outcomes include installation, public art, event, physical and digital exhibition, and use collage, assemblage, sound and artist books.
Emily has invited audiences to collect and sort clutter, help reunite lost property, create collage to reflect lives of older people during Covid, and ask the question 'What do we hold dear?' Recent projects combine sound and image to explore an archive of dialect house at The University of Leeds, and an artist residency at Portland Bird Observatory in Dorset. Emily is working to create a series of large scale collaged installation, inspired by the history and architecture of former Landsdowne Social Club at 195 Mare Street, built in 1697.
NEWS
Book Now!
Do you like to make?
Maybe you haven't made for a while, or maybe you're looking for different ways of creating? Arts creative or a beginner, everyone welcome.
Come to Make Club to explore creative approaches to drawing, printing, making collage, and more. Make Club is mostly about exploring processes and thinking around ideas rather than technique and skill, but expect to come out with some artworks you're really proud of.
BOOKING NOW
What is an artist book? Explore artist books with two series of inspiring sessions using drawing, print and collage. Led by visual artist, Emily Tracy. Emily has explored the artist-book form over several public commissions including for (SPACE) and Museum of Docklands.
PART ONE: Dates 2nd/ 9th/ 16th/24th November 7-9pm
PART TWO: Dates 30th Nov/7th/14th December 7-9pm
Click on Make Club project page for booking details.
Private View
Please join me to view work made in response to the architecture and history of 195 Mare Street .
Built in 1697, this house has had many occupants. I have had the pleasure of using the amazing panelled front room as a studio since January. Find more about the house here.
Saturday  3rd June 5-8 pm
195 Mare Street
E8 3QE
Exhibition dates
Sunday 4th June
Thursday 8th June
Friday 9th June
Saturday 10th June: E8 Art Trail
Sunday 11th June: E8 Art Trail
Opening times: 11-4pm
Save the date!
Private View
SATURDAY 3RD JUNE 5-8PM
195 Mare Street
Hackney
E8 3QE
Nearest underground station:
London Fields Overground.
I am excited to be showing some work I have been making in response to 195 Mare Street. This beautiful building has been a house, a home, a refuge, a social club and a squat since it was built in 1697. As one of the oldest buildings in Hackney it has had many residents and visitors. The interior is beautiful, and has somehow managed to retain tangible links to its history. In January I set up a temporary studio in the heavenly wood panelled front room, and  I have been exploring the history and architectural detail of the building to create an installation.
Spread the word!
I am thrilled to have been commissioned by The Dialect and Heritage Project to celebrate and help share their amazing archive. I will be be delving through the Leeds Archive of Vernacular Culture archive to create a series of collages and audiograms inspired by the archive itself, how it was made, and the amazing dialects and special words it holds. I love that the archive is expanding and growing as, what we say, and how we say it, evolves and borrows from people around us.
Make Club HQ
Very excited to share Make Club news.
Make Club started four years ago from my studio. The class quickly outgrew the space and has then moved from my Live/work space, going online during the pandemic, to  Finch Projects Cafe and then to Space Studios. I am pleased to announce we will now be based at the incredible 195 Mare Street, a historic grade II listed building with amazing history and importance within the borough.
Make Club will be extending its reach to adults to offer a series of classes which explores and responds to the buildings fabric, history and former residents to explore site specific practice.
Make Club for young artists will also be based there, allowing us much more space and the kind of environment all artists dream of. We will be able to make more mess and extend our arms, legs and artworks beyond the confines of a table. Something we all need to do!
To book go to the Make Club pages in the Gallery.
TILT
Private View
Amanda Benson and Emily Tracy
18th November
6-11pm
Finch Gallery
12 Sidworth Street
London E8 3SG
Watch Artist interview Ilford Directory'
Emily Tracy talks about her commission 'Ilford Directory' for SPACE , a co-created billboard celebrating Ilford people and places.
On view until April 2023, with book art pieces on display in the gallery. Oakfield Road, Ilford, IG1 1ZJ.
Launch invite
Please come along to celebrate the installation of  the billboard artwork on 11th October 3.30pm – 7.30pm.
Outside the gallery at:
SPACE Ilford
10 Oakfield Road
IG1 1ZJ
Gallery open Wed 11am – 5pm, Sat 11am – 3pm
October 2022 – April 2023
Imagine the wealth of knowledge, resources and experience that are contained within Ilford. What would an Ilford directory of life tips look like? What would it contain?
No matter what age we are, if we have been through a life stage, threshold or experience we have little pieces of wisdom to pass on. Small things that we learn every day.
The Ilford Directory has been imagined and co-created by Emily Tracy with Ilford residents. Teachers from schools around the borough came together to pool their top tips for life and to create collages. Then photos of Redbridge people and places, both past and present, were contributed through open calls to create a three dimensional collage.
Fair Art Fair curated II: Womxn
I am thrilled to announce that my work will be shown at forthcoming exhibition 'Fair Art Fair curated II: Womxn'.
An exhibition of works by 20 womxn artists, selected from the revolutionary Fair Art Fair app by leading industry curators Jo Baring and Beth Greenacre
Selected Artists 
Olivia Strange | Lucy Gregory | Caroline McCambridge | Tess Williams | Emily Gorum | Tamsin Morse | Liz Elton | Anna Lieber Lewis | Madinah Thompson | Ingrid Berthon-Moine | Lisa-Marie Harris | Nilufar Nuthall | Rosario Trillo | Amy Mizrahi | Emily Tracy | Srabani Ghosh | Sophie Goodchild | Elena Saraceni | Victoria Snazell | Jo Chate
Unit 1 Gallery www.unit1gallery-workshop.com
Private view: 5th May 2022 6-9pm
Exhibition dates: 6th May – 11th June 2022
Who Cares?
During the autumn Emily worked with young people from around Ilford to explore the question 'What do you care about?' using collage.
Who Cares? is a Creative Europe funded collaborative projec made up of five organisations dedicated to artistic production from different latitudes in Europe: Idensitat (Barcelona, Spain), SPACE (London, United Kingdom), Rupert (Vilnius, Lithuania), Grey Area (Korčula, Croatia) and Centro Huarte (Navarre, Spain).
Let's Stick Together: archived for the future.
Let's Stick Together was an Arts Council funded project which invited older people and their families to collage sound and image to reflect their lives during the pandemic. We are pleased to announce that the project will be archived for the future at both Hackney and Tower Hamlets Local History Library and Archives.
'Out at Sea' festival at Royal Greenwich maritime Museum
Join Make Club at 'Out at Sea' festival which celebrates LGBTQ+ history on Saturday 19th February 2022. We will be using collage to create new lands, islands and atolls using our collection of maps. This project is a part of  Bijou Stories. a project by Avant-Gardening that aims to paint a new picture of the LGBTQ+ community based on their lived experiences, memories and histories.
Make Club new class!
Do you have a 6-11 year that likes to make? Join Make Club on Tuesdays 4-5.30pm at studio behind Last Thursday, Southgate Road, N1 3JS. Get in  touch to grab a place.
Coming through a letterbox near you!
'Let's Stick Together' took place throughout winter and spring 2021. It explored the process of collage, using found image and sound, and how it might reflect our lives through uncertainty. It brought together visual and participatory artist Emily Tracy, radio producer Sarah Cuddon  and writer Line Langebek from 'Library of Change', together with participants at Bromley By Bow Centre, and from around the country. Online and via the postal service, we created over 40 collages, 2 podcasts, and 1 poem, all on our kitchen tables, which reflect on our experiences over the last year or two. 
We now  have 1000 postcards, which will be winging their way around the UK and beyond, to share our project direct to your doorstep. We hope they will be used to reconnect
and say hello to  friends and family after 18 months of lockdowns and restrictions on our lives. Get in touch to recieve your FREE postcards!
And take a listen to the podcasts on SoundCloud here.
May 2021
Exhibition 'All Along' opens at Shuttleworth Swiss gardens 17th May- 31st May 2021.
This exhibition is the culmination of a residency, collaborating with local volunteers, ecologists, historians and curators in Greensand Country. This project is commissioned and supported by Greensand Country and produced for Greensand festival.
Want to join 'Let's stick together'?
We're all staying safe at home, and looking forward to the time when we can see family and friends, and get back to enjoying the activities we usually do to keep us happy.
Perhaps you have a friend or family member that you haven't seen since Covid? Perhaps you are missing out on arts groups you usually go to?
This is an opportunity to do an activity safely together online or in your own time.
Join us to create some collages which reflect your time during lock-down, and where we are just now. Connect with other people across the country, and share your work through a fun and friendly group.
We are offering two sessions which will introduce you to making collage, and give you some ideas to get started. Email emily@emilytracy.co.uk for more details.
January 2021
Awarded Arts Council project grant
I am very pleased to announce the launch of 'Lets stick together', a project which will explore the process of collage, using found image and sound, and how it might reflect our lives currently. It will bring together visual and participatory artist Emily Tracy, writer Line Langebek, radio producer Sarah Cuddon from 'Library of Change', The Bromley By Bow Centre and The Rotherhithe Picture Library, to experiment and investigate the creation of a Covid-safe project for older people. The outcome will take the form of a 'Mail Art' project, sending out 500 postcards, inviting each recipient to 'Please forward'. Each card will share jointly created images and link to three sound pieces in podcast format, reflecting on stories, sound and interviews.
November 2020
Commissioned artist books  'Mondays' and 'Me automatic', which responded to oral history archive at Mantle Arts, was completed for forthcoming display at venues around Coalville, Leicestershire. 'N W Leicestershire voices' is a Lottery Heritage project making their archive of interviews more accessible through artist exhibits. The two artworks are accompanied with edited interviews selected by the artist, and shared with a QR code.
October 2020
Join Make Club for Half term!
26th October at The Finch Cafe 12 Sidworth Street 4-5.30pm
27th October at The Finch Cafe 12 Sidworth Street 4-5.30pm
28th October 10-11.30 am on Zoom for a live class with materials sent out to you wherever you are!
To book email emily@emilytracy.co.uk
All classes £15 per child including materials.
August 2020
Make Club is back!
New look after school art classes for children and young people at The Finch Cafe, Sidworth Street, Hackney.
Classes for 6-11 yr olds and 11-16yr olds.
Mondays and Tuesdays 4.15- 5.45pm (6-11yrs)
Monday 6.30-8pm (11-16yrs)
Book block of classes 7 sessions £105
June 2020
Celebrating 50 projects created through workshop sessions online with children, young people and families since Covid-19 lockdown. Follow our projects on Instagram or join a session on Zoom. Book here!
We've made lockdown survival Zines, Armchair traveller boxes, lots of sculpture using cardboard, miniature books for The British Library, and animated germs.
"We love Make Club!"
"This has honestly been one of the most wonderful things we've discovered during Lockdown."
"Thanks for providing the classes, they've been really fun and also a welcome break in the home learning schedule for me!"
"We absolutely love your classes -it's such a therapeutic outlet for kids at such a strange time!"
May 2020
I am pleased to announce I have been commissioned to create a sculptural book for Mantle Arts.
Mantle Arts is based in North West Leicestershire and delivers arts projects across the region. In the mid 1980s they collected memories of local people that stretched back to before the first world war, building a bank of oral history recordings. 'N. W. Leicestershire Voices' is an 18 month project, supported by The National Lottery Heritage Fund, that will return to these recordings, preserve them via digitisation, and use them in a range of projects to make this archive of local history more accessible including the creation of exhibits.
April 2020
During the Corona virus crisis Make Club has moved online and has opened classes to children and young people all over the UK and beyond. Five Zoom classes a week are now offered and can be booked on EventBrite.
February 2020
Book now for Collage Club for adults. 4th and 11th March. 7-pm. Martello St, London Fields, London E8 3PE.
Explore and experiment with old school cut and paste to create a framed artwork.
Contact for full details.
January 2020
I will be working with The Museum of London as a part of their project 'Memories of London'. Working with older Londoners at dementia cafes, we will be using archive from the museums collections, and conversation about food, to create some artist books capturing food memories. Yum!
September 2019
I am excited to announce I will be completing a residency for Greensand Country, Bedfordshire, exploring this unique landscape and heritage, and drawing upon archive and research collected by Greensand Country volunteers and local communities.
August 2019
The Institute of Animal Spirit Guides, X-Ray Department will be appearing at The End of The Road Festival, Larmar Tree Garedens, Wiltshire. 28thAugust-1st September. Join us to find your spirit guide with our scientific quiz, make fantastic cardboard creature body parts and go behind the X-Ray machine to reveal your spirit guide!
July 2019
Open studio : July 25th 10-6pm
Martello Street
Hackney
London
E8 3PE
June 2019
Make Club residency at Bangabandhu Primary continues. This term young people have explored their local environment through collage and looking at artists who have used collage and perspective in their work. They have also contributed to a collaborative artwork exploring the architecture of V & A Museum of Childhood which is on display at the museum until the autumn.
October 2018
The launch of 'Through Kaleidoscope Eyes' took place with local residents and children and families from The West Hill in the Park Children's Centre. The participants took part in finding elements of the collage and will be able to enjoy the artwork until 2020.
CONTACT
Phone: 07985 567309
Please join our newsletter below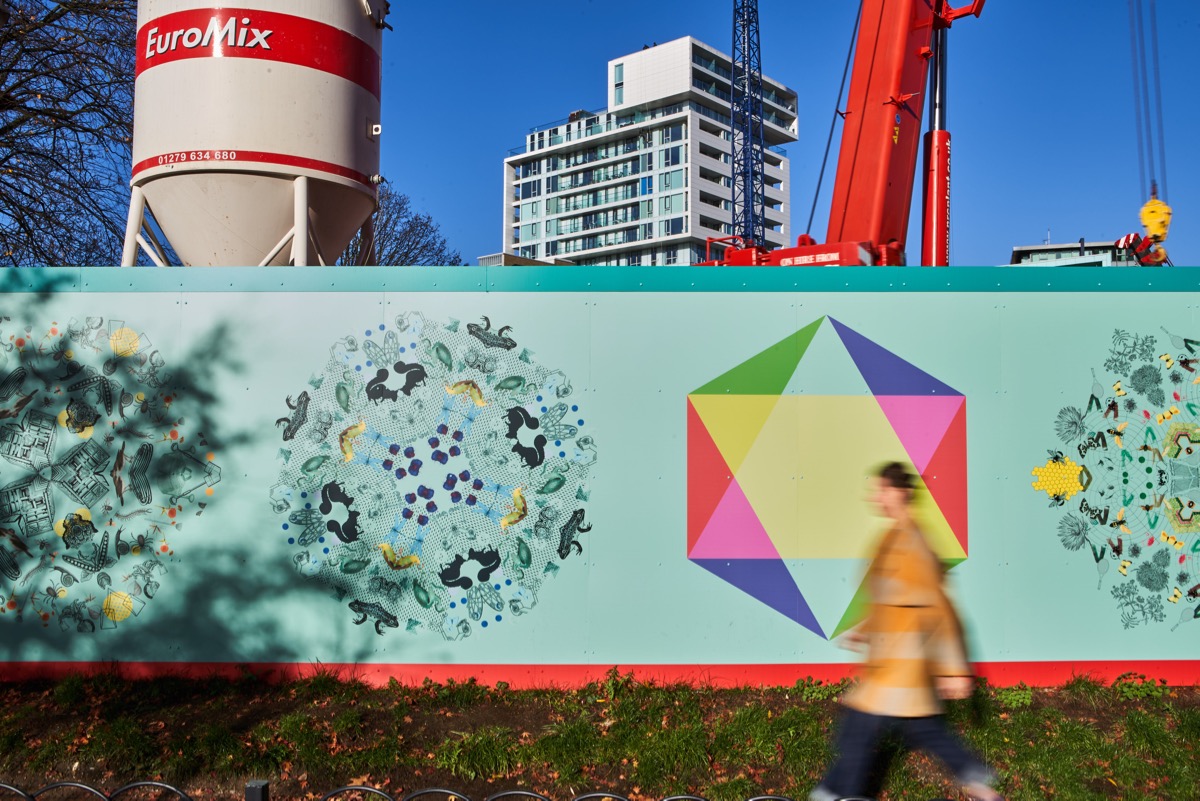 clients